What is EAT in SEO? How to Improve EAT Score? 
EAT in SEO stands for Expertise, Authoritativeness, and Trustworthiness.
EAT determines where your business website is on the Google result page. Though EAT doesn't have a direct impact on ranking, it has a significant impact on setting your website in SERPs.
It's known that Google keeps updating its algorithm to provide a better user experience.  Google rolls out many minor updates in a year and a few significant updates occasionally.
With these updates, Google is improving at eliminating poor-quality websites and displaying high-quality websites on searchers' screens.
In Google Search Quality Guideline, Google mentions EAT analyzes the page's quality, which helps SEO rank content.
EAT is essential in all types of content, but it's primarily crucial in YMYL (Your Money or Your Life) content. 
The information that can impact people's health, finance, and safety is categorized as YMYL content.
Example of YMYL topic:
News
Legal information
Health and Safety
Finance
Shopping
Information related to a particular group of people
Advice that helps people make decision
You'll see detailed information about the YMYL content in the image below.
Google has a stringent EAT standard, as these types of content have information that can influence people's health, happiness, finance, stability, and safety.
If you're creating content on any YMYL topic, you need to be extra careful while providing information to your reader.
Now, let's understand each element of EAT in SEO.
Expertise
Expertise refers to someone with skills and knowledge in a specific field. Any website can show expertise if the site has unique, helpful, and reliable content.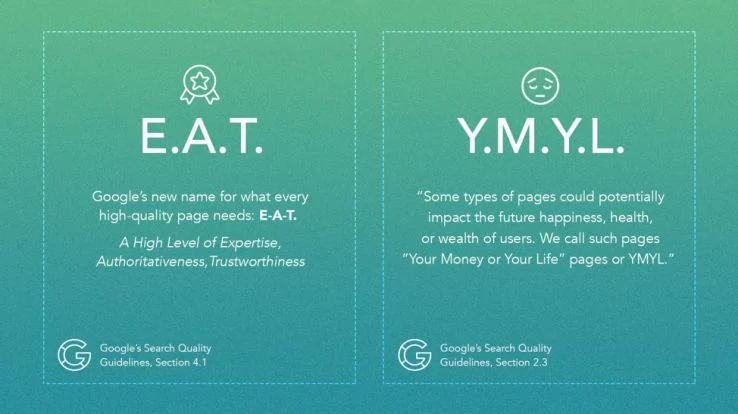 Google gives importance to the person who is publishing blogs on the website. It looks for the website's credentials before providing the content a rating.
If the site has relevant certificates, it lifts the website's ranking. Expertise is even more critical for websites for medical, law, and financial information.
While publishing articles on these topics, you need to ensure that each piece article has an author byline that gives a certain sense of expertise.
For example,
If you made a query related to the economic crisis, then Google prefers to rank the content by the expert in the field rather than listing the content of a new blogger.
Similarly, if you search regarding specific diseases or medicine, you get content from a doctor who is an expert on that disease.
High-quality content denotes that you're an expert in the field, and Google rank this type of content because searcher finds it informative and valuable.
Besides high-quality content, you also need to know how to communicate the information in a way that engages readers.
You can build a connection between your content and readers if you find out what interests them.
Authoritativeness
Google algorithm does its best to measure the authoritativeness of the website and author. Google's algorithm somehow depends on mentions, referrals, and backlinks to determine how much authority the site has to rank content.
When someone cites you for the information, you're not just the expert in the industry, but you also earn authority on the subject matter.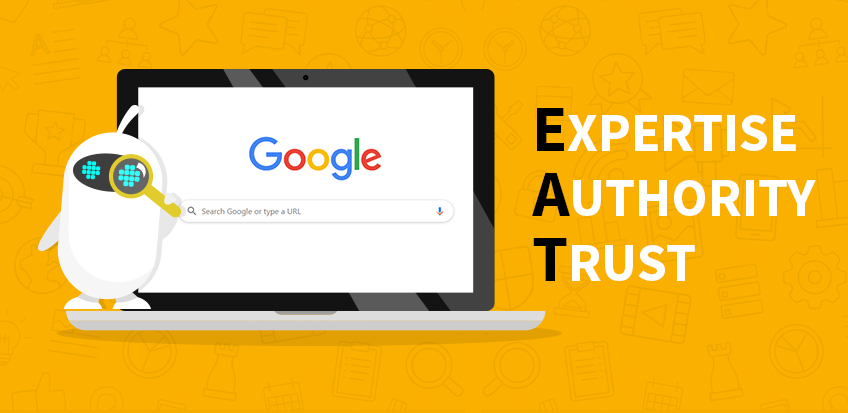 If the well-authorized website mentions you, Google takes this as a positive signal to rank your content.
Searchers don't just want information from the expert but want to read the content from the authorized person who is the best in the industry.
If you're an author writing on a particular topic, Google considers the citations, mentions, and high-quality content to determine the authoritativeness in the field.
You can undoubtedly dominate your field if you have quality content that can help readers and the big website that mentions you. 
This signals to Google that you have authority in the area and that your content is worth ranking above other content.
And if your content is naturally shared across social media, this also indicates your website's growing authority.
Trustworthiness
While expertise and authoritativeness are the two crucial ranking factors, trustworthiness also has a role in the order. 
You have to make Google trust your website to get a high ranking. Your honesty and reliability are what matters to Google.
Your website should have accurate information about the business location, contact number, team members, etc.
It can negatively impact your ranking if you don't provide the correct information about the author or the website.
Along with this, Google also measures the trustworthiness of your website based on positive reviews, the security of your website, and the performance of your website.
Organic positive reviews on Facebook and Google My Business accounts can help your website and webpage rank.
Why is EAT important for SEO?
So, why should you care about EAT in SEO?
Indicate quality
Google focuses on giving importance to content that has specific quality standards. Google wants to provide quality information to users.
Therefore, it's essential to maintain the quality and relevancy of the content on your website.
With EAT, Google identifies the content quality before displaying it on the searcher's screen.
Impact ranking
As mentioned in this article, EAT doesn't impact content ranking. However, Google may not measure EAT directly with its algorithm.
Still, the algorithm is designed to look for the indicator of EAT in various areas and rank content with a higher EAT.
Users acknowledge EAT
Improving your website's EAT means you're providing a better experience to your visitors, and you're also increasing the amount of trust in your website.
You're improving your ranking when visitors enjoy your site, and Google expands confidence in your area.
How to improve the EAT score to enhance SEO?
So, you know what EAT is and why it's essential for your business website. Now, do you aim to perform well in Google ranking?  You should know how to improve your EAT score.
Include the Author's name and detail in the Content.
Mentioning the content creator is crucial because it lets people and Google know who is writing the content. It gives a sense of trust to the reader.
Content written by an expert in the field makes them believe in every word of the content.
If someone searches for the cake recipe, s/he will prefer to read the content written by the chef. So, it's better to provide detailed information about the author to let Google and the reader evaluate the trustworthiness of the content.
However, the author's information is unnecessary if you sell a product. For the product page, you should give easy access to contact information to allow secure purchases.
Build a reputation
You might have noticed big businesses are performing well on the Internet. This is because they are well-known and have a reputation in their field.
So you should also start building a reputation for yourself and your business if you want to perform well online.
If you lack a reputation in your industry, you'll probably be outperformed by the people with a positive reputation.
How to build a reputation?
Interact with your audiences, customers, and influencers from your social media platform. It's about exchanging knowledge with the influencer, and you may interact with your customers to solve their problems.
Interaction is the best way to build trust with your audience and customers. When you build trust, your customer will remember you over your competitors.
Edit or remove low-quality content.
Each page on your website needs to have a purpose. If your webpage doesn't deliver value, then that content doesn't worth staying on your website.
You may consider removing or revising the content if there are any chances of performing well.
Make sure you have quality content. If you're creating content just to increase the content on your website, then you should stop doing that. Instead, it would help if you started creating well-crafted and rich content.
If you have thin or duplicate content, it's better to remove it from your site, or else you can merge them to create a comprehensive range.
You can also improve your content quality by adding helpful information in headlines and meta descriptions rather than raising urgency using words like limited stock.
Improve the Technical security of your website.
You need to have a secure website to increase your EAT rating. If your website is built on HTTP, your browser will show a 'Not Secure' tag, discouraging visitors from staying on your site.
So, to make your user feel secure, you need to install the SSL (Secure Sockets Layer) certificate, which encrypts a secure connection between a browser and a server.
With SSL, you also protect the personal data they share on your website.
Google responds negatively against insecure connections. If you own an e-commerce website with an insecure connection, your site will get a low EAT rating. Ensure that your website is hosted securely to improve your EAT rating.
If you're using WordPress to build your website, you must install plugins and update the version. This can help you protect your site and improve your EAT rating.
Final Thoughts
Although improving your website's EAT rating seems intimidating, it's worth it. It's all about creating trustworthy, reliable content and delivering value to readers.
So try to build your brand, not just a website with random information. Building a brand will increase your level of expertise in your industry, gain the trust of your audience, and become a thought Leader on the topic.
When you improve the EAT rating, you'll notice that Google displays your content for every relevant search.