Artificial Intelligence in Digital Marketing
Digital marketing is evolving at a rapid pace faster than ever. Marketing is connecting its hand in every possible part. Also, it has evolved in such a way that it uses the service of artificial intelligence and machine learning technology to analyze the customer's behaviors.
Artificial Intelligence is conquering the digital market in such a way that it has become the biggest commercial opportunity for every business purpose. It is almost sure that the latecomers on AI are going to suffer from huge loss within some years.
According to the Gartner study, by 2020, artificial intelligence will be used by at least 60% of organizations for digital marketing.
One fact of AI, the world-famous IBM Company renowned for hardware developers, has now changed into fully Software Development Company based upon Artificial Intelligence and Machine learning. IBM saw and implemented the power of AI into their marketing feature, which now leads them to one of the most powerful AI Company in the world.
Importance of Artificial Intelligence in Digital Marketing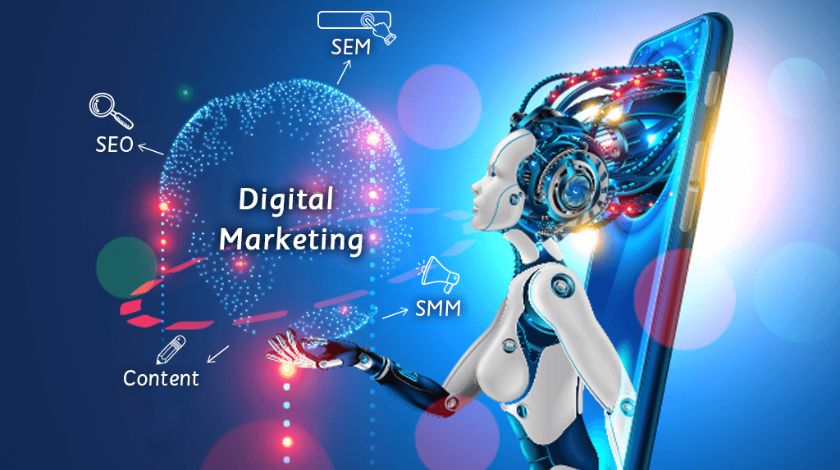 "Machine works 27/7 which no employee is capable of". AI minimizes your work with the perfect outcome. Surely, your business will gain the height of success after the implementation of artificial intelligence in digital marketing.
Applications in action today are all around the world; for example, it is used for weather forecasting, recommendation engine, spam filtering, fraud detection, ATM, Chatbots, and many more.
AI not only shows whether a step that you took is good for your product, but it also shows which step is more promising. It helps your team in leading with the highest ROI. Artificial Intelligence also focuses on the quality that you need to place rather than the quantity, so; it provides financial support to the business.
AI is mostly useful on E-commerce marketing purposes where with the help of AI, it automatically studies the historical behavior of customers and recommends the products which are most probable to be purchased.
Artificial Intelligence has the capability of predicting outcomes of future outcomes based on the older data. This is a great uplift and a bonus point for every business to predict the customers' lifetime value. It allows the business to predict how much to invest and how much amount to produce their products.
Applications of Artificial Intelligence in Digital Marketing
1. Chat Bots
Chatbots are the invention of IBM in the purpose of quick communication to the website owner. Since people are more connected with social media application like Facebook Messenger, WhatsApp, etc. chatbots makes the job easier.
These Chatbots have replaced the Frequently Asked Question section because every question that emerges in your mind, you can type into the chatbox and you can get an immediate answer. A good quality AI could answer any of the questions that and visitor presents to website.
Not only it provides answers it is available for 24/7 with the quick reply which no any employee could afford for.
2. Predictive Analysis
Prediction is the most important factor for Artificial Intelligence in digital marketing. This will increase the benefit of business that you can't even imagine. Suppose that you know the exact outcome of your product before initializing to the market. That will be great! Wouldn't it?
You can now invest the perfect amount for your product without worrying about the loss. AI and Machine learning identify the probability of future conclusions based on historical data. You can also predict the type of customers and the type of product that the customer will purchase.
3. User-Experience
AI makes user-experience more engaging because after analyzing thousands of data of individual use, it studies the behavior and AI offers similar contents which an individual is frequently connected with.
According to the Survey of 2017, 33% of the marketers used AI to provide personalized web experiences.
AI provides the desired content on the screen of individual so that there is a high chance that the person interacts with. This increases the market of business from ground to top.
4. Digital Advertising
Digital Advertising is the most applied platform of artificial intelligence for digital marketing. Likewise, AI study the data and finds the nature of the person and sends the relative advertisement.
Facebook and Google ad platform is already in use of AI and machine learning to find the perfect type of customers.
There is a situation on everyone's life that the thigh you saw or interacted in somewhere else platform is found on another platform before you even searched for it. AI automatically knows your act of interest and presents to you.
Benefits of Artificial Intelligence in digital marketing: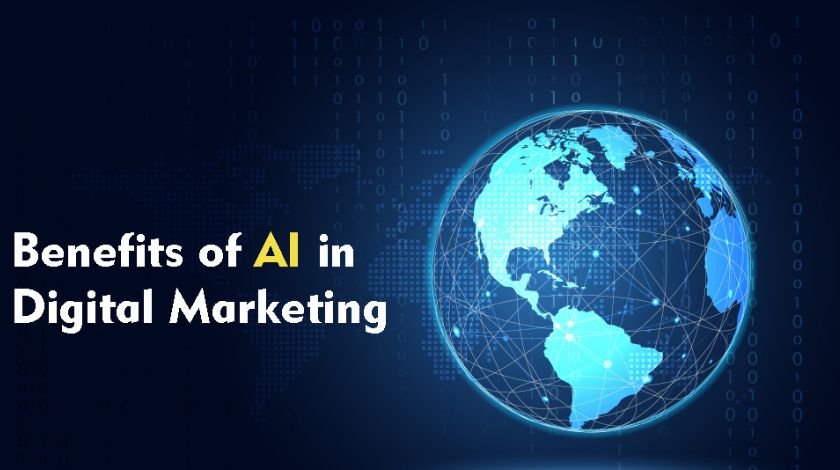 Artificial Intelligence plays a great role in reducing the problems of digital marketing which people are facing today and will help them in increasing the profit.
1. High efficiency
Artificial Intelligence is a perfect tool for any activities. The more efficient your market, the more profit is acquired. Also, it predicts the exact amount of product that needs to be created for the marketing purpose. 
2. High accuracy
You get 100 percent accurate result with implementation of artificial intelligence. Also, the prediction made by AI of future outcome is perfectly accurate.
3. Saves Time and Money
 AI is a quick technique that reviews an unlimited amount of data within a minute. AI has to search and inspect thousands of program or data for a single task to provide a perfect result. It takes weeks of research for the human to study an individual, but AI can find right candidate within some minutes.
As AI finds the right candidate, there is no need for large investment amount for promotions. Also, it can easily provide the advertisements directly to the specific person.
4. Improves ROI
AI makes better decision and prediction for your business methodology. It also helps you to create better contents and designing which your customer would desire. AI finds out the perfect audience for your product, which they are unable to refuse.
5. Helps in better understanding of user
Artificial Intelligence is capable of understanding the emotional situation of the users on chatbox only by studying the message patterns. Also, it analyzes data and knows the behavior and decisions of the website visitor.
Future of Artificial Intelligence in Digital Marketing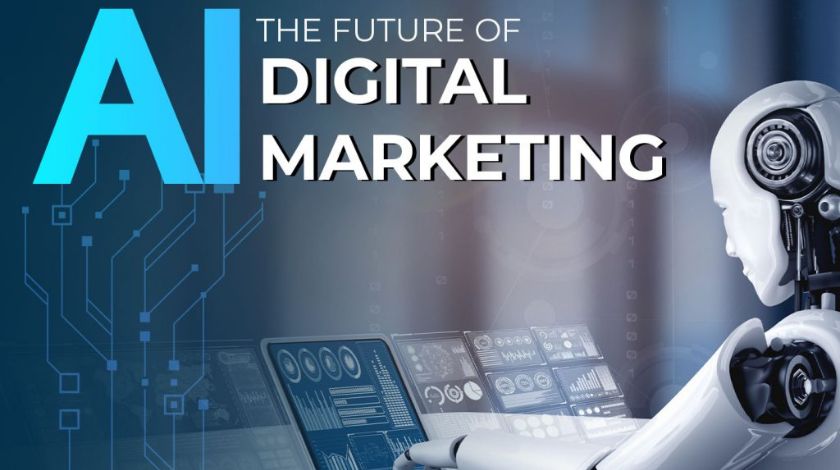 AI has owned Digital Marketing in the last five years that it didn't effect for 50 years. It is effecting the digital market so good that the demand for AI is up to the sky. There is no sign of backward motion of AI in the coming future.
This is sure that, if you miss the application of Artificial Intelligence, you miss the future.
AI makes life easier and more comfortable. There are already so much of the AI features in digital marketing, i.e., chatbots, predictive analysis, user-experience, and many more. Surely, AI is not going to rest for a very long time.
In Conclusion
Hence, Artificial Intelligence is a phenomenal technology that ensures the development of any business. Using AI in digital marketing improves the user-experience and rushes your website to the progress.
Within a few years, AI is surely going to be the number one business methodology all over the planet. You will be regretting your life if you miss out the functions of AI into your services. It is recommended that every business entrepreneur apply artificial intelligence for rapid development.
FAQ

What is Artificial Intelligence in digital marketing?

The application of AI technology for marketing is known as AI marketing. Likewise, it provides the ability to collect data, analyzing it, applying it, and learn from it. Artificial Intelligence is transforming the digital market with more user-experience, predictive analyzing, real-time customer support.