How To Get Online Jobs in Nepal (That Pay Well!) (2022)
We at Hansikar are among the leaders in providing online jobs in Nepal. Come join us today if you wish to make better use of your time, gain valuable experience, and earn a good income!
Along with futuristic technology, similar opportunities follow. Thus, it is essential to keep up and adapt to the technology that time presents us in today's fast-paced era.
You must adapt to the relevant technology to succeed in this challenging and competitive world.
Come join us today if you wish to use your time better, gain valuable experience, and earn a good income! For more information, you can visit our career page: 
Online jobs would be one of the best ways to make money from home, and many options are available.
Likewise, there are several online jobs in Nepal that you can apply for, depending on your skills and interests.
Know more about Why and How to use Storytelling in Content Marketing?
When you're a beginner freelancer, getting paid for working from home is overwhelming, but you should cherish the relaxation and less stress you feel.
Why should I choose Online Job in Nepal?
Online Jobs in Nepal has become an excellent platform for innovative youth with new ideas to earn a good living.
If you find a perfect online job, it will eliminate a lot of daily hassles and struggles, such as:
Investing your own money
Regular commute
Bad eating habits
Dress codes
Tight schedule
Irregular work life
Annoying Co-workers
The number of web users has skyrocketed to almost 60% by 2020, leading to a rise in demand for online jobs in Nepal.
So, feel free to get into online jobs if you're from Nepal for a better, more convenient, and more productive work life.
Online jobs can be ideal for graduates in specific fields and undergrads with skills.
How To Get an Online Job in Nepal?
If you have a specific set of skills that you think might be useful: suck as good writing skills, content optimization, blogging, vlogging, and web design, you can use them to earn good income through the internet.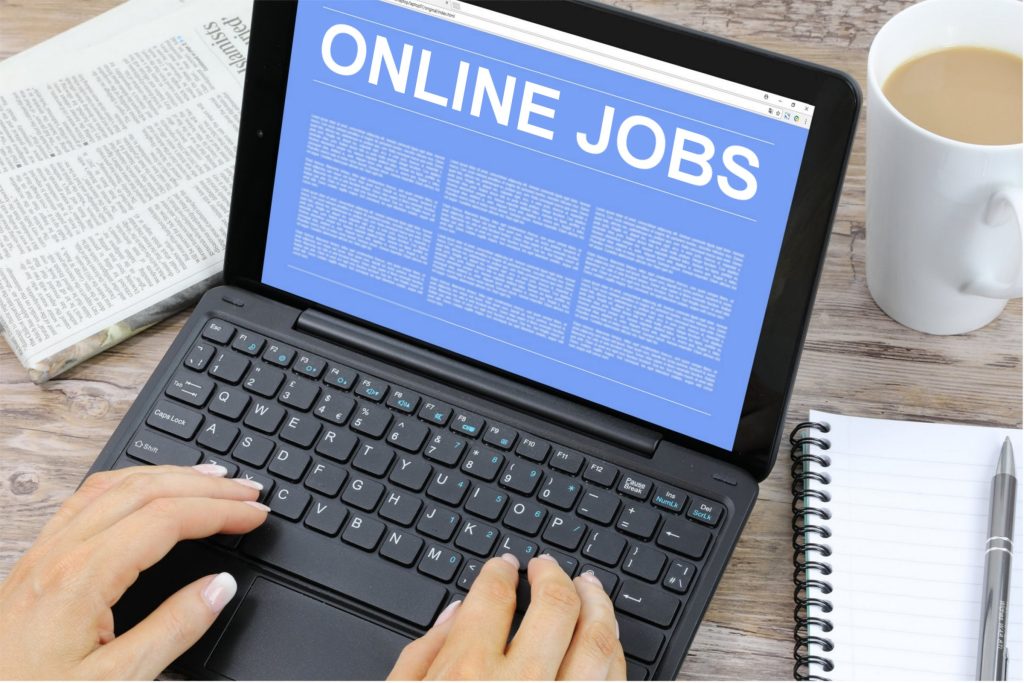 Before you start looking for online jobs in Nepal, keep the following things in Nepal:
Planning
Plan properly: There are many job opportunities available online. Plan properly before you jump into something you do not know of. You can find many online scams posing as online jobs. Generally, posts about online typing jobs in Nepal, online jobs for students in Nepal, INGO jobs in Nepal, or similar titles tend to be scams. Be careful and plan your approach in the same manner.
Know what you want: Knowing your strengths before applying for an online job in Nepal will help you realize what you are good at, what you are not good at, and what you would like to do. Moving forward will be much easier once you decide what you want to do throughout your life or as a short-term career. You can work on your shortcomings and improve your strengths.
Find the means: If you are sure what job fits you best, find the means of getting the best job in that category. There are many job portals in Nepal from which you can apply. More on these means are mentioned further along in the article.
Homework and implementation
Create an impeccable CV: Before applying for any job, you must have an impeccable CV/resume. Only then can you stand out from your competitors. With a sharply polished CV, you can highlight your skills, work experience, training, education, and more to stand out in the competitive job market.
Learn more about your niche: You need to figure out your passion and interests. After that, perform deep-dive research on your preferred place. Learn about every possible sub-category about the niche in such a manner that you become irrepressible. If you learn every possible thing about the slot, you'll have the mindset to take on every interview confidently. If you are confident about yourself, getting an online job in Nepal is a piece of cake.
Work hard and Smart: Individuals with solid motivation do not need to be told how important hard work is. Along with working hard, try to be intelligent and sharp in your career. You can then do what you want as your job from the comfort of your home.
Online jobs in Nepal that are excellent
Do not fall for clickbait titles. As mentioned, attractive titles such as online typing jobs in Nepal for students, online jobs in Nepal work from home, or online typing jobs in Nepal tend to lead you to a dead end.
Furthermore, You could lose some of your money during the process. You have inevitably been told many lies about getting online jobs through different sources.
Regarding getting online jobs in Nepal, plenty of opportunities match your qualifications and skills. So, we've gathered some legit Online job opportunities you can use.
Content writer (article writer)
Do you like reading blogs, websites, and other types of online content? What about creating them? If you are a creative person who can write well, a career as a Content Writer may be the right choice.
An experienced Content Writer writes copy for websites, social media, whitepapers, eBooks, blogs, and many other platforms.
Know more about 12 Necessary Steps to Build a Website for SEO
Furthermore, they work closely with businesses to determine what information is relevant to their tone of voice.
The job of a content writer in Nepal opens up many possibilities, from working with agencies to in-house marketing teams to freelancing.
As an outsider, the demand for a good content writer in today's time can be surprising.
Getting Started:
You can continuously improve your vocabulary or English skills even if it's not the best. So, get started and start earning good money right now.
For this, visit the job portal mentioned below and searches the terms "Content writer," "Writer," "Freelance writer," or other similar words.
Content Writers do not follow a set path to success, but displaying an online portfolio of your work is a great way to catch the attention of employers or clients.
Earning:
On average, a content writer in Nepal earns about 200k a year. This equates to the north of 15k each month.
However, this number is the average. You might not get this much at the beginning. But, if you work hard, innovative, and creatively, you can earn much more than this.
Essential Skills:
The ability to write in many different styles is a crucial skill for every Content Writer. In addition, you must emulate a brand's tone of voice and format your writing to fit different designs.
It might also benefit you as a writer to specialize in specific topics. Furthermore, what do you enjoy writing about; fashion, sports, beauty, sport, or travel?
Once you determine your specialization, you can look for clients and employers in that area.
Freelancer (SEO/web design/support)
Freelance SEO or Web design requires some skills. However, if you acquire and develop these skills, you will likely find a satisfying freelance job you'll stick to for a long time.
In terms of the work you contribute and the amount of money you can earn, a freelance SEO or a web designer's career can be rewarding. Additionally, it is a way to take control of your career and lead a successful career.
Earnings:
A well-adept SEO expert in Nepal can earn between 15k and 40k during the initial years. Furthermore, once they gain experience and expertise, their profits can skyrocket.
Essential Skills:
For SEO, you need the following skills:
Speaking & Writing Ability
Critical Thinking
Drive, Motivation & Adaptability
Data Skills
Technical & Programming Skills
Social Skills
Analytics Skills
A Sense of Humor
If you don't know much about SEO and its essential for building websites, you can quickly learn about it.
Similarly, some helpful web design skills are mentioned below:
Web Server Management
Online Marketing
Responsive Design
CSS
JavaScript
Content Management Systems
Other Design Applications
HTML
Social Media Manager
Using social media platforms, a Social Media Manager implements content strategies to interact with the public on behalf of a Company.
As part of their responsibilities, they need to analyze engagement data, identify trends in customer interactions, and plan digital campaigns to build online communities.
As a result of the social media manager's good work, a Company/website can gain a good audience, traffic, or customers.
Social media managers can be an excellent platform for earning well online if you feel you have the chops.
So, consider trying out as a social media manager as one of the best online jobs in Nepal.
Earnings:
Social Media Management related to advertisement and Marketing. A social media for a well-established firm can earn an average of 40k per month.
However, if you're a newbie with reliable skills and potential, with a starting salary of 15k to 20k, you can earn about 15 to 20k monthly.
Skills required:
Social Media Managers in Nepal need to:
Implement research projects and studies, analyze said research to identify future opportunities, and identify research requirements
Have strong communication skills
Ability to perform multiple functions and be versatile
Create, manage, and execute marketing campaigns
Problem solver and creative thinker
Stay relevant to popular culture
Other Jobs
Affiliate Marketing
Another fantastic way to make money online is to start affiliate marketing. Furthermore, Affiliate marketing is an excellent way to earn money in Nepal.
Your blogs can be used to sell affiliate products online when you have traffic and niche-related blogs.
Publish blogs and posts based on the product you are promoting and selling. Explain specifics about the affiliate product and promote it on your blog and post.
Furthermore, the audience who finds your post and orders the affiliate product can pay you a commission.
Blogging
The most straightforward way to earn money online is to start a blog. Blogging is one of the oldest and most proven ways to make money online.
Millions of blogs are running worldwide, making billions every year. Ideally, starting a blog now is best if you consider doing it. If you want to do it, it's one of the best online jobs in Nepal.
Many revenue models are available for blogs. If you write a blog, you can monetize it in many ways, including Sponsored ads, Contextual ads, Google AdSense, Banner ads, Affiliate marketing, Guest posts, and Paid Posts.
IPO
Even though an IPO is not an online job, it is a good way of making money online in Nepal. If you are oblivious to an IPO, you are losing out.
With a suitable investment, you can earn up to Rs 10,000. MeroShare provides an easy way to buy and sell IPOs online.
The number of companies going public is increasing. Hundreds of firms are preparing to go public in Nepal. An IPO can be bought for only Rs 100.
But after listing in the secondary market, that share can reach Rs 1000. Isn't that ten times more profitable?
Bug Bounty Hunting
The best way to earn money online in Nepal is by finding bugs on big websites. Most big websites offer bug bounties to employees who discover bugs on their sites.
These bug bounties can range from a few dollars to a thousand dollars. You can also win them by finding bugs on websites and reporting them.
Furthermore, numerous youngsters in Nepal have earned millions of rupees by finding bugs on Facebook, Twitter, and Microsoft websites.
Similarly, through the job portals mentioned below, you can find many other online jobs in Nepal, such as tutoring through the internet, data feeder, freelance graphics designing, web development, freelance editor, SEO consultant, video editor, and so on that could be a good fit for you.
Means of Searching Online Jobs in Nepal and Job Portals in 2022
With the advent of technology, the job advertisement industry has also been impacted, and it has been bridging the gap between employers and job seekers.
So, here is the list of online job portals in Nepal for your convenience.
Mentioned below are Nepali job portals. You can also apply for online jobs internationally. Some international job portals suitable for Nepali workers are discussed below:
You can find hundreds of jobs if you set your priorities straight and follow the earlier procedures. When you do so, choose the one that is right for you and enjoy working from home.
Read more about Tips To Master Your Content Marketing Skills
Online Jobs to Avoid
You can find many online job opportunities in Nepal if you research thoroughly. But be careful not to get attracted to a Job scam or an option that isn't worth your time.
So, look out for yourself when applying for the jobs mentioned down below:
Google ad clicks a job that appears to be paying its workers money in exchange for clicking through thousands of advertisements. Many companies in Nepal tend to model a job description similar to this. So, try avoiding these if you're unsure.
Search Jobs in Nepal tend to be fake. So, please do not fall for posts telling you they'll pay you to search for specific information in Nepal.
Paid Reviews can be legit if you find a reliable source. However, finding a legitimate sponsor paying for reviews in Nepal is like finding a needle in a haystack.
As mentioned earlier, typing jobs in Nepal is one of the biggest scams by crooks to sabotage innocent and oblivious youths looking for job opportunities. They tend to ask for an enrolment or training fee from job seekers. If you exchange cash with these people, they will do everything they can to make your training miserable and fail to return any money they owe you.
Similarly, avoid Social Sharing Jobs claiming to pay you for sharing social media posts or similar stuff.
Again, We at Hansikar are Nepal's leaders in providing online jobs. Join us today if you wish to use your time better, gain valuable experience, and earn a good income!